A rising star for future health care champions, the Nell Hodgson Woodruff School of Nursing is consistently named one of the best nursing schools by U.S. News & World Report Why? Because our faculty, training, research, and students are unequaled.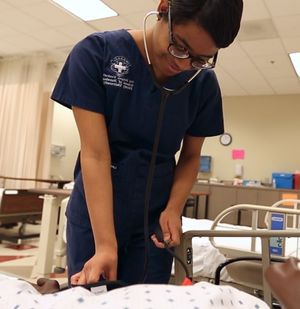 In the diverse, thriving health care hub of Atlanta, standing out isn't easy. But, the clinicians, instructors, and nursing students of Emory Nursing do just that. Blurring the lines between classroom and career across a wide range of tech-focused, patient-centered specialties, Emory students and practicing nurses are working to transform lives not only for today, but for many days ahead.
Our innovation model really revolves around computational health sciences, digital health technology, simulation, virtual reality, and augmented reality.
— Beth Anne Swan, Associate Dean and Vice President for Academic Practice Partnerships
Professor, Clinical Track
Key Priority
In 2O36, Innovation is Elemental
Boundless opportunities. Ultramodern facilities. Visionary thinking. Expected to serve the community by summer 2022, the Emory Nursing Learning Center will lead the way in nursing education. With new technologies and advanced teaching methods, including an advanced simulation and skills lab, the facility will support experiential and immersive learning for students. It also will be home to the Emory Nursing Experience continuing professional education program, in partnership with Emory Healthcare Nursing.
The stunning new simulation center, where new classes of nurse leaders will train in world-class care, will be the largest of its kind in Georgia. And by sharing our facilities, equipment, and programs with others across the state who need advanced training, Emory will solidly plant a flag as the health care leader in Georgia. Supporting 2O36 helps provide a unique opportunity for collaboration and growth between the School of Nursing and Emory Healthcare and keeps Emory at the forefront of health care innovations.
Key Priority
Cultivating Leadership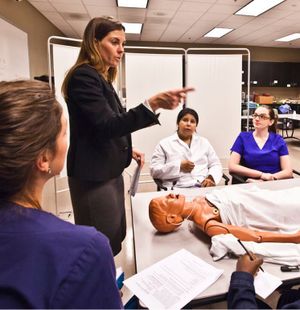 To retain and develop widely respected faculty at a nursing school of our ranking, access to flexible development funds is crucial. Financial support for the faculty development endowment through 2O36 ensures that faculty can fully contribute to the field of nursing science and clinical practice, increasing their scholarly and clinical accomplishments.
Expected to improve both retention and productivity of nursing faculty members, these funds may support academic leaves for faculty to participate in fellowships opportunities that enhance their professional development.
These funds support the recruitment and retention of the School of Nursing's outstanding faculty, allowing faculty members to pursue fellowship opportunities and other professional development endeavors.
A MESSAGE FROM
Carolyn Clevenger 02N 04N 14N P23
Associate Dean for Transformative Clinical Practice
Professor, Clinical Track
Key Priority
In 2O36, Data Leads Decisions
A hub for research and the education of future nursing and health care leaders, the Data Science Center is among a growing number of data science resources across Emory University. Signature initiatives Project NeLL and Project CONQUER use artificial intelligence to guide work and learnings.
From better clinical decision support, to discovery of metabolic bases of disease, to population health management, the Data Science Center's goal is to use data-driven thinking to address nursing and health care challenges. With the help of 2O36, this immersive initiative will highlight the role of nursing science in solving complex problems and prepare nursing students to accelerate the future of patient care through data analytics.
A MESSAGE FROM
Linda McCauley 79N P11
Dean and Professor, Nell Hodgson Woodruff School of Nursing
NELL HODGSON WOODRUFF SCHOOL OF NURSING
KEY PRIORITIES