Through powerful inquiry, Oxford students become thoughtful, effective, and responsible leaders and agents of change.
A distinctive liberal arts college located on Emory's original campus, Oxford prides itself on an intense focus on the liberal arts, leadership, and service. Just 45 minutes from Atlanta, the Oxford campus is deeply rooted in history with eyes on the future. Through the related processes of discovery, exploration, and reflection, students are immersed in a curriculum that introduces them to ways of finding and producing knowledge.
From the time students arrive on campus, we are deeply invested in their success, in their satisfaction, and in their flourishing.
— Douglas A. Hicks, Dean of Oxford College of Emory University and William R. Kenan Jr. Professor of Religion
Key Priority
Sustainability is Essential
From the tree-lined campus in a charming small town, to the woods Oxford students have spent years restoring, to the 11-acre organic farm, a living laboratory that feeds students and the community, Oxford College doesn't just value ecological sustainability, we live it. A distinguished professorship in environmental studies would expand the curriculum and learning opportunities, strengthening a key area of undergraduate study at Emory.
By supporting 2O36, we can recruit a senior scholar to lead our academic study of the environment and support co-curricular sustainability initiatives like Oxford's organic farm. The professorship in environmental studies will position Oxford College, and Emory more broadly, as a leader in understanding and practicing sustainability.
Key Priority
Research Isn't Just for Faculty
An Oxford education centers on the close attention of faculty teaching and mentoring our students through their academic and research pursuits. Through your support for 2O36, we can create an endowed fund for student-faculty collaborative research so that more Oxford students can access valuable research opportunities. Collaborative projects bolster students' educational experience, prepare them for professional opportunities, and enable Oxford to compete with top liberal arts colleges and research universities alike.
A MESSAGE FROM
Kim Chenevey 02Ox 04B
Key Priority
Expanding Student Horizons by 2036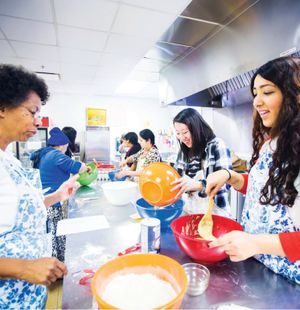 The Oxford College student experience applies the liberal arts to leadership in real life. Starting their first year, students can take advantage of learning experiences outside of the classroom. Through 2O36, we can create a Center for Leadership and Experiential Education to unite our curricular and co-curricular programs in leadership education, internships and community engagement, global studies, and career exploration.
Whether in Oxford, Georgia, or Oxford, England, students will get firsthand experience that can't be found in a textbook. Our local community will benefit from the work that student volunteers perform in public schools, medical facilities, senior living communities, and other spaces. And as students study abroad, we prepare them to make a difference in the world and elevate Oxford's identity as an international liberal arts college. With an education built on this kind of holistic, experiential learning, Oxford College students can build pathways from the liberal arts to meaningful careers.
A MESSAGE FROM
Hugh Tarbutton 84Ox