Emory School of Medicine is at an inflection point, poised to move from excellence to eminence.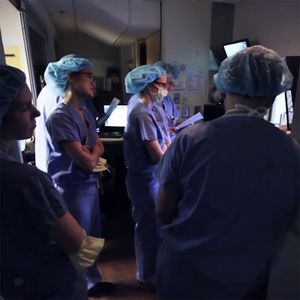 At Emory School of Medicine, our path demands innovation that takes on big problems in human health, and solutions will require synergy across our three missions of clinical care, research, and education. This interconnectivity improves patient outcomes, enables specialized health care services for complex illnesses, and leads to discoveries that would not otherwise exist.
We must learn something important from every patient encounter in our academic medical center. In this way, we will advance from excellence to eminence in research and education, which will pay lifesaving dividends for patients in Georgia and beyond.
People here really want to work together. There's a tremendous desire to work collaboratively, and this is what's needed in order to tackle the toughest problems that face society today.
— Vikas Sukhatme,
Woodruff Professor, Emory School of Medicine
LEVERAGING STRENGTHS
Clinical and Research Strategy
We are targeting six areas based on our greatest existing clinical and research strengths, the potential for impact on human health through clinical service lines at Emory Healthcare and other clinical partners, philanthropic opportunities, National Institutes of Health (NIH) investment trends, and our ability to leverage multiple programs.
These areas are brain health and aging, cancer, cardiovascular health, child health, infectious diseases and immunology, and biomedical engineering and data science. Brain health and aging, cancer, and cardiovascular health are the highest priorities for funding.
HEALTH CARE INNOVATION
Innovation Ecosystem and Clinic of the Future
To accelerate the translation of research discoveries into health care settings—where they will transform patient care—Dean Vikas Sukhatme and other Emory leaders are defining a "Clinic of the Future" initiative. Key entities within the Emory community that are anticipated to play a role in this concept include Emory Healthcare, the Goizueta Institute @ Emory Brain Health, the Emory Morningside Center for Innovative and Affordable Medicine, Emory Executive Health, Winship Cancer Institute, and the Emory Laboratory for Innovative Assay Development.
A major effort of this innovative care model will be to combine artificial intelligence and simulation with cutting-edge diagnostics to offer personalized care with repurposed, FDA-approved drugs. The goal is not only to treat and monitor disease, but also to improve early diagnosis, help people avoid disease in the first place, and, most important, promote peak wellness and healthy longevity.
A MESSAGE FROM
Gari Clifford
Chair and Professor, Department of Biomedical Informatics
CULTURE AND INFRASTRUCTURE
An Ideal Environment for Discovery
We are trading reticence for action, investing in pilot studies, and moving faster. For every new idea, initiative, and strategy, we ask: Will this accelerate discovery and innovation? Is it bold enough? (We aim for cures.) Does it create connection and synergy? Can it be supported by data? Does this promote engagement, creating diverse viewpoints and a culture of mutual respect? Is it fun?
The Dean's Imagine, Innovate, and Impact Awards seek to answer all of these questions, seeding new collaborations, programs, and centers. This highly successful program has created a 6:1 return on investment in just three years, with awards distributed across all 22 SOM departments. Supporting discovery across disciplines, the Health Sciences Research Building II will enable the interdisciplinary collaboration that improves health through the integration of education, discovery, and patient care.
SCHOOL OF MEDICINE
Education Strategy