Serving more than 17,000 patients each year, Winship Cancer Institute at Emory University helps cancer patients throughout Georgia, the Southeast, and beyond by working to prevent, treat, and cure cancer. This is where science becomes hope.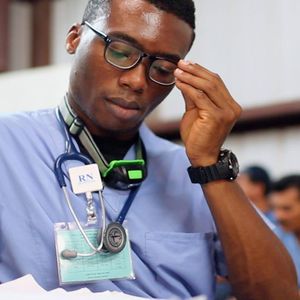 To move from excellence to eminence in transforming cancer care and outcomes, Executive Director Suresh Ramalingam is focusing on five areas: drug discovery and development; personalized immunotherapy; technological innovations and data sciences; risk reduction, prevention, and early detection; and cancer health equity.
Every time I'm in the clinic, seeing patients, I feel like I'm making a difference. When you see treatment plans for patients with cancer work and they are here years later to say how happy they are for the outcomes, that to me feels like the biggest difference I could possibly make in someone's life.
— Suresh S. Ramalingam, Executive Director, Winship Cancer Institute
Professor, Department of Hematology and Medical Oncology
Roberto C. Goizueta Distinguished Chair for Cancer Research
Associate Vice President for Cancer
Campaign Priority
Drug Discovery and Development
Winship is well positioned in drug discovery and development, building on Emory's impressive track record. It is important to invest in the identification of novel anticancer targets, medicinal chemistry, chemical biology, and expansion of the phase I clinical trials program. Further growth of Winship's shared resources is key to meeting the ongoing needs of the research community in advancing drug discovery and development. Promising drug candidates developed by Winship faculty members will need continued support to realize their benefits for our patients.
Campaign Priority
Personalized Immunotherapy
Cancer immunology and the development of immunotherapies have the potential to revolutionize care. As we understand what is unique about each patient's immune system, we can tailor the treatment approach based on individual tumor and patient characteristics. Cell-based therapies harvest a patient's immune cells, optimize them to fight cancer, and infuse them back into the patient's body. Winship investigators have been involved in clinical trials of nearly every FDA-approved immunotherapy drug, and we expect growth in immune-based approaches to separate Winship from other cancer centers across the nation.
A MESSAGE FROM
Cassandra Quave 00C
Associate Professor, Department of Dermatology
Associate Professor, Center for the Study of Human Health
Curator, Emory University Herbarium
Campaign Priority
Technological Innovations and Data Sciences
Every patient's cancer care journey comes with a significant amount of data. Artificial intelligence and machine learning can help Winship leverage this data to make huge improvements in patient outcomes. Through technological innovations and data sciences, Winship will accelerate patient-focused research and support personalized care. These tools can improve quality by streamlining patient services and helping Winship researchers translate discoveries into cancer treatments.
WINSHIP CANCER INSTITUTE
PRIORITIES