The Michael C. Carlos Museum collects, preserves, exhibits, and interprets art and artifacts from antiquity to the present.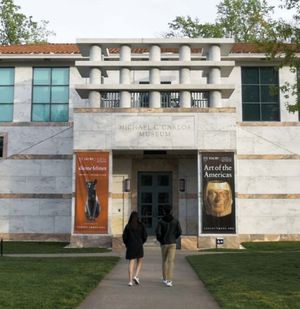 Set in the heart of Emory's campus, the Michael C. Carlos Museum is a dynamic, interdisciplinary center for the study of art and culture, with collections from Africa; ancient Egypt, Nubia, and the Near East; ancient Greece and Rome; the Indigenous Americas; and South Asia; as well as American and European Works on Paper.
Through our permanent collections, engaging special exhibitions, and innovative programs for audiences of all ages, the Carlos Museum connects the past with the present and the campus with the community. The museum is committed to emphasizing diverse voices, perspectives, and disciplines.
Curators and faculty develop original exhibitions, engage in interdisciplinary research and teaching, and host touring exhibitions that complement our collections and support the teaching mission of the university. The museum's conservators collaborate with staff, faculty, and students to conduct research and manage preventive care on the museum's varied collections. Museum educators reach across the museum, campus, and city to develop opportunities to engage the intellect and the imagination of university students and faculty, preK-12 students and teachers, and the larger Atlanta community.
We need to care about our past in order to prepare for our future.
— MONIQUE SEEFRIED
Campaign Priority
In 2036, Students Come First
The Carlos Museum is a center for student flourishing on campus. Emory students collaborate with curators, conservators, and educators to create exhibitions, investigate objects, and explore ideas through great works of art. With your support, 2O36 will further distinguish an Emory education by ensuring students have access to these unique research opportunities.
Campaign Priority
In 2036, Experts Are Essential
Curators and conservators are essential to the Carlos Museum, leading research and publication of the collections, developing exhibitions, and contributing to the academic vitality of the Emory scholarly community. 2O36 investment in curatorial support will allow the Carlos Museum to hire and retain curators and conservators of the highest caliber as well as provide funding for research, exhibitions, and professional development.
Campaign Priority
With 2O36, the Collections Are The Heart of the Museum
The Carlos Museum collections include art from Africa; Ancient Egypt, Nubia and the Near East; Ancient Greece and Rome; the Indigenous Americas; and South Asia as well as American and European works on paper. With your help, 2O36 will ensure these collections are accessible to the campus and community, through continuous research and scholarship, contemporary exhibition design features, and innovative public programming. Endowment can transform these galleries into nimble and dynamic spaces of learning and wonderment, incorporating the work of contemporary artists and descendent communities in dialogue with museum collections.
A MESSAGE FROM
Monique Seefried
Adjunct Professor, Art History
Michael C. Carlos Museum
PRIORITIES