Even as the world continues its rapid pace of change, religion and theology endure as powerful influences in society, and humans still long for a connection to something bigger than themselves.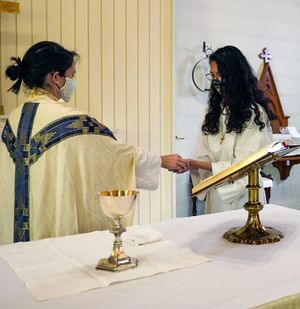 Since our founding in 1914, Candler has remained true to our mission to educate faithful and creative leaders for the church's ministries throughout the world. We live into that mission every day, producing field-defining scholarship, shaping students who put God's love into action in countless ways, and driving positive transformation in the church and the world.
Candler shapes Christian leaders dedicated to building strong, vibrant, resilient communities that promote the flourishing of all.
— Jan Love, Mary Lee Hardin Willard Dean and Professor of Christianity and World Politics
Campaign Priority
In 2O36, Scholarships Abound
Candler's impact in the world depends on the remarkable ministries and inspired leadership of our students and graduates, called by God from all walks of life and all economic spheres. In 2036, the cost of a Candler education isn't an obstacle for them, because generous scholarships abound.
Currently, all master of divinity students at Candler receive financial support of at least 50 percent of tuition, with an average tuition discount of 78 percent. By supporting 2O36, you will help us reach our ultimate goal of making the master of divinity program tuition-free, removing financial hurdles for students and the burden of debt for graduates. Achieving this milestone will allow us to attract the best students, regardless of their financial circumstances, so that they may go on to serve wherever God leads, whether a small rural church or an international nonprofit.
Campaign Priority
Recruit and Retain Top Talent
Candler's outstanding international reputation rests on the shoulders of our faculty. Across time, they have fostered an environment unique in theological education—one that values scholarship, teaching and serving the church in equal measure. They lead their fields in scholarly productivity and mentor students to maximize their gifts, laying the groundwork for communities and churches to thrive.
The caliber of our biblical studies faculty has always been a mark of distinction for Candler, but unlike other prominent institutions, we currently don't have an endowed faculty position in biblical studies. A generous gift to 2O36 will allow us to create a named chair of biblical studies to ensure Candler remains a top destination for world-renowned scholars.
A MESSAGE FROM
Kevin Murriel 11T
Assistant Professor in the Practice of Practical Theology and Black Methodist Seminarians Program Director
Campaign Priority
In 2036, Experiential Learning Drives Change
From their first day in the program, our master of divinity students engage in hands-on learning and faculty-led reflection that deepen their understanding and sharpen their vocational discernment. In year one, they work with organizations that deliver social services, such as homeless shelters, prisons, hospitals, refugee centers, and ministries serving people with disabilities. In year two, they serve in ecclesial settings alongside a seasoned leader. Time and again, students point to Candler's Contextual Education program as a highlight of their education.
We envision expanding our Contextual Education offerings with a named endowment that will allow students to pursue additional Con Ed experiences anywhere in the world while continuing their coursework through remote learning. Investments in this program will allow Candler to enhance our technology and support students by providing stipends, travel funding, and more. Creating more opportunities for contextual learning will shape leaders with deep understanding who can drive meaningful change.
A MESSAGE FROM
Karen Webster Parks 16T
CANDLER SCHOOL OF THEOLOGY
PRIORITIES